Project Overview
Honduras 100 began early 2005 across the nation to provide buildings for already existing church plants that had no facility. The congregation is required to purchase the land and be deeded in the Conferences name. Pastors are credentialed and or attending Bible School. We partner with each congregation as they meet the qualifications and provide a structure approximate 36 X 53. A typical church with enclosing walls can be built by one team in one week. Each church will provide some volunteer labor to help with the building. Each team will need send in advance $13,000.00 in construction funds to build one structure. We look forward to partnering with you in this project.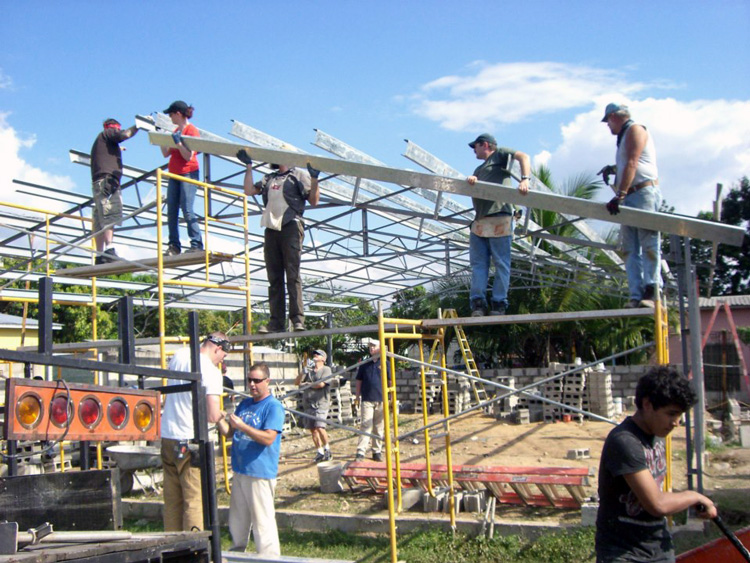 Teams
In order to build, we need team members to come alongside these efforts. No one should be expected to work alone, and that includes our missionaries in the field. Builders International is in place to come alongside them and be a network of teams and resources to help complete these projects and move them toward greater effectiveness in their area. For this to happen we need more people to pick up a hammer, to make the leap to the other side of the world, and to enjoy the life changing experience of being a part of the team. Sign up now to get away and start your international adventure.
Lead a Team for this Project Register Your Team for this Project
Teams Information
Type of Work

New Construction
Max Team Size:

20
Per Diem cost (includes food, lodging, in-country transport.) :

75-85
Airport Code:

sap
Team Housing Address
use the Hilton princess for visa
Team-Ready?

Yes
Airport

(sap) san pedro sula
Customs/Airport Fees

40.00 exit tax no entrance fee
Required Vaccinations

none
Recommended Vaccinations

current tetnis
Advance Visa Required?

No
Per Diem cost (includes food, lodging, in-country transport.)

75-85
Accomodations

Hotel
Internet Availability

Yes
Voltage

110
Laundry Facilities Available

No
Local dress code (work site)

knee lenth shorts, shirts with sleeves
Local dress code (church)

pants shirt
Prohibited Items
Scope of Work

the foundation will have been done before arrival. will start first day standing the steel up and putting roof down.
Skilled Labor Needs
Is there a day of rest and activities?

Yes
Liesure day description.

mountains or beach cost varies in dest.
Ministry Opportunities

Yes
Team Host

Brad Foltz
In-Country Contact Number

1417-859-7964
Construction funds to raise.

13,000
Core Packing List for all Teams
Saftey Gear
gloves ear plugs eye glasses
Hand Tools
Power Tools
Tools to Donate to the Project
craftsman 19.2 volt batteries
Replacement blades and bits
Non-construction items to bring for project
bug spray----- sun screen.
Testimonies
Pastor Yojan got church number 11. Now he has expanded his building several times added a school and a feeding center. his church is running 250 or better not including the kids. the feeding center is a after school program and ministers to 250 kids 4 days aweek. We thank GOD for pastor Yojan and all the pastors like him in Honduras that use the tools God has provided. Honduras100

Pastor Yojan
Give
Funds Raised

$1,000,000(100%)
Project Funds Needed

$1,000,000
As you extend your financial resources to this project, you not only meet the need in this area, but provide great encouragement to the missionaries and people working toward this effort. The effect is widespread. Not only does it make a huge impact on those directly involved, but it ripples out and penetrates deep into the surrounding community. When our hearts are moved together to do something, giving is a natural response. We give of our time, ourselves, our skill, our physical abilities and of our financial resources. In unique cases like this, the dividends are huge and make lasting changes. Thank you for sharing what you've been given!